---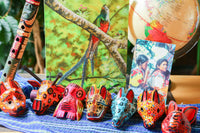 ◎ "Rare beans and 4 types of recommended this month" 4 types (adjusted according to the type of rare beans)

Rare beans selected by a coffee appraiser and all 4 types of this month's recommended set
A total of 4 types of drinking comparison set with rare beans, monthly blends and 2 single origins. I will send you beans for the yen (tax included).
◆『2 kinds of popular singles and 2 kinds of blends』 250g × 4 kinds
Brazil, Ethiopia (Natural), Kokumaro Blend, Monthly Blend
◇ "4 types of popular blends" 250g x 4 types
Kokumaro Blend, Monthly Blend, Gold Prize Mocha Blend, Asaichi Blend
★ "Africa and South America 4 types" 250g × 4 types
Africa (Ethiopia, Rwanda, Burundi, Kenya), South America (Brazil), etc.
○"Central America and Asia" 250g x 4 kinds
Central America (Guatemala, Nicaragua, Costa Rica), Asia (Indonesia), etc.