☆★送料半額 ★☆ オンライン限定 飲み比べセット
飲み比べセット(250g×4種 ~) がオンライン限定・送料半額で新登場!!飲み比べることで味わいの違いが感じやすくなります。
是非、お気に入りのコーヒーを見つけてみて下さい。

 ・希少豆と今月のおすすめの 4種
 ・人気シングルとブレンド 4種
 ・アフリカと南米 4種
 ・アフリカ 4種
 ・人気ブレンド 5種
☆★送料半額 ★☆ オンライン 限定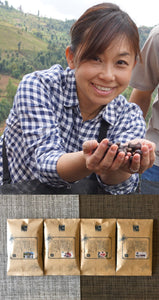 "Drink comparison coffee selected by coffee appraiser"
It is recommended for customers who want to try different flavors of coffee and for customers who are choosing coffee for the first time. By drinking and comparing, you can easily feel the difference in taste. Please try to find your favorite coffee.

[Limited Quantity] 3 types of rare bean coffee regular flights (delivered once a month for 3 months)
[Limited quantity] Rare beans selected by a coffee appraiser and this month's recommendation All 4 types ・Popular single and blend TOP 4 types ・Popular blend TOP 4 types ・Africa and South America 4 types ・Central America and Asia 4 types
  Nekopos shipping included ¥ 3033 ~
  (It will be mailed to the post by Nekoposu)
"Drink comparison set including shipping"
---
[Safety and security of Wakoya "Quality Declaration"]
Thorough quality control and temperature control in everything from seed to cup is essential for delicious coffee.
Wakoya's coffee beans are strictly checked for taste and quality by coffee appraisers and coffee specialists who can accurately check the quality, and we only offer high quality beans.
---
☆ Popular top 5 coffee beans Procurement area single origin ☆
---
☆ Popular top 5 coffee bean blend ☆
Wakoya Co., Ltd.
2-1914 Fuku, Fukui 918-8027 Fukui Prefecture
9:30-17:00
Closed on Tuesdays
☎0776ー63ー5019
✉ info@wakoya.com